Mission Statement
We empower individuals to take control of their health, with emphasis on prevention, by providing up-to-date information and support – from whole food nutrition to holistic healings.
"Let food be thy medicine and medicine be thy food" ~Hippocrates

About Wellness Plus
Wellness Plus is a full spectrum Natural Living Community of natural healing professionals and individuals who are serious about all parts of an all-natural lifestyle. We are the only one of this kind on the East Coast. We provide a full education, support and holistic healings right in our beautiful 1300 sq ft center, as well as "lectures on the road" and health fairs for corporations, government agencies, civic groups and doctor's offices. The year 2019 is our 23rd year promoting natural healing & health. 
Our mission is to empower individuals to take control of their health, with emphasis on prevention, by providing up-to-date information and support – from whole food nutrition to holistic healings.
We believe in whole food. As Hippocrates stated, "food should be your medicine and the medicine should be food, and to be a medicine, first, it has to do no harm."
Wellness Plus is 100% supported by member's dues and by their purchases in our "Store of Mother Earth." We have not, do not and will not accept any donations from drug or food manufacturers even though we operate on a not-for-profit basis. Therefore, you can trust the information we provide because we are a totally independent organization.
For individuals and families, we provide weekly classes, seminars, workshops and cooking demonstrations. We also provide various holistic healings (see member's benefit list) at discount prices. We have personal and group training programs in our center, as well as house call services. We also carry unusual and hard to find natural foods and supplies in our store.
For natural healing practitioners, we have referral services, free corporate health fair booths to promote your business, treatment room rent starting at $200/month for one day per week, matching funds for advertising and more. Ask about our "Partner in Health" program.
Feature Presentations
For further details and/or to view all of July's activities, click here.

Monday July 8 at 6:30, "Monday, July 8 at 6:30 pm "Movie Night – The Nutritional Reversal of Cardiovascular Disease: Fact or Fiction"

Video presented by Jim Cordie featuring Dr. Caldwell Esselstyn, M.D. Cardiovascular disease is the number one killer in the Western world. But it doesn't need to be. The truth is that more than 75 percent of cases of heart attacks, strokes, and other cardiovascular disease events are preventable. Dr. Esselstyn illustrates that a plant-based, oil-free diet can not only prevent the progression of heart disease but can also reverse its effects. He is an internationally known surgeon, researcher and former clinician at the Cleveland Clinic and a featured expert in the acclaimed documentary Forks Over Knives. Prevent and Reverse Heart Disease has helped thousands across the country and is the book behind Bill Clinton's life-changing vegan diet. The proof lies in the incredible outcomes for patients who have followed Dr. Esselstyn's program, including a number of patients in his original study who had been told by their cardiologists that they had less than a year to live. Within months of starting the program, all Dr. Esselstyn's patients began to improve dramatically, and twenty years later, they remain free of symptoms.
Monday, July 15 at 6:30 pm "The B Vitamins – Do We Get Enough?"  — Why do we need B vitamins and what is the best way to get a
sufficient amount? If you're feeling down and out it may be insufficient B vitamins. Do we need supplements or so we get enough from a whole food plant-based diet? Judy Filipkowski will be our speaker.
Monday July 22 at 6:30 pm "The Inflammation-Insulin Connection to Heart Disease" — The pharmaceutical industry has made billions of
dollars from cholesterol-lowering statin drugs such as Lipitor®. However, there is increasing evidence that high cholesterol alone is not the leading cause of heart disease and that the widespread use of statin drugs has not had much impact. We will learn how inflammation has a much bigger impact on artery clogging and heart failure and what we can do about it. Also, we will see how insulin resistance plays a role not just in diabetes, but also in heart disease. Come to see how we can lower our risks of both diseases with natural and inexpensive solutions! Presented by Dr. Chuck Powley
Monday, July 29th at 6:30 pm "Sprouted Whole Grains Potluck" — Bring your favorite grain & recipe for us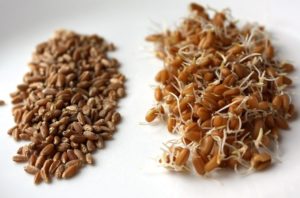 all to taste. Sprouted bread, pasta, rice, buckwheat, quinoa, millet – your choice. Sprouting increases the key nutrients, including B vitamins, C, folate and fiber. They may also be less allergenic to those with grain protein sensitivities. Judy will share some nutritional information on sprouting.
Event Registration & Tickets

Use the form below to register for event or class and then make payment.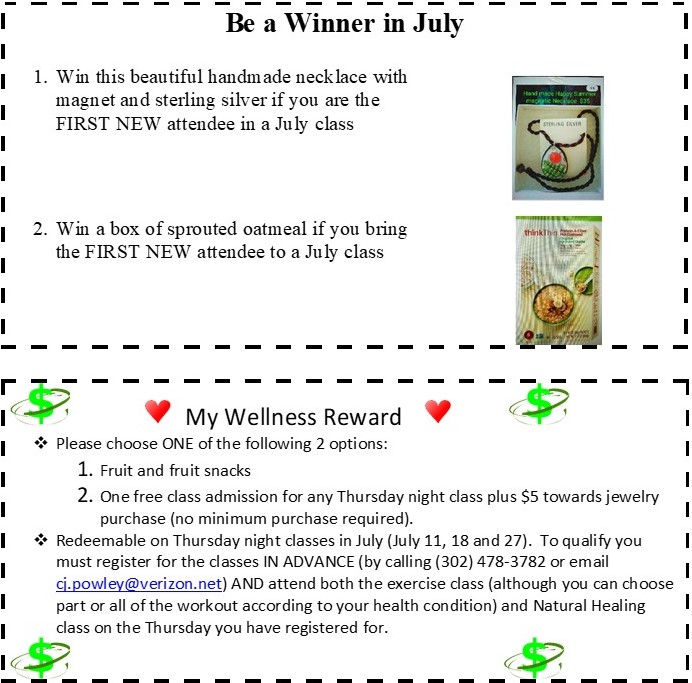 The Wellness Plus Program covers topics such as:
Healthy food choices and shopping
Whole food and weight control
Easy sprouting and wheat grass growing
Keep your heart healthy naturally
Strengthening your immune system
How to select good supplements
Green tea and your health
Anxiety and depression – food & mood
Qigong, Taiji and meditation
Body fat testing
Successful aging
Feng Shui for your home and workplace
Aromatherapy
Living healthy in a chemical world
Osteoporosis and joint health
Calcium & alternatives to dairy
Environment and your health
Avoiding Alzheimer's
Inflammation & degenerative diseases
Natural alternatives to hormone replacement
Keeping your digestive system healthy – naturally
Exercise Classes & Programs
Stretching
Look and feel younger and move easier. Don't let your muscles be an obstacle. Stretching helps refresh lymph and venous circulation. We will learn the benefit of each stretch to help us understand its importance.
Pilates
Pilates is known for core (center of gravity muscles) strength and support training. Strengthen your body and gain better balance. Dr. Demond will explain the benefits of each position.
Yoga and Beyond
Gentle stretches and meditation to relax your mind and body as well as stretch and expand your muscles!
For class schedules, use Calendar Tab under Events & Programs in menu above or click here.
Natural Healing Workshops
The focus is on pure healing essential oils that are safe, have a great aroma, versatile and may help with many symptoms and to ease aches and pains.  What are they?  How do I use them?  To find the answers and learn more about these wonderful natural remedies come and visit us at our workshops presented by Shirley Rineer. Click here for schedule.
Mother Earth Store
Our store features natural whole foods and supplements, as well as handmade jewelry and crafts. We specialize in organic pearl jewelry and Feng Shui enhancers. For more information, use tab in menu above or click here.
Wellness Plus Stories
Read stories of inspiration and success about people who through the use of the Wellness Plus health and wellness program have restored themselves to true health without the use of drugs or surgery.
Their stories include dramatic weight loss, decreases in cholesterol, reversal and/or elimination of degenerative diseases such as type II diabetes, heart problems, cancers and more. Frequently, users of the Wellness Plus program have been able to discontinue the use of all or some medications. Click on the "Testimonials" tab above.
Start your day with the Wellness Plus Delaware Breakfast Shake!
Our breakfast recipe is the perfect choice for a nutrient-dense meal in the morning. We encourage you to step outside your comfort zone. Enjoy this breakfast shake which will nourish and heal instead of just getting you to the next meal. If you cannot purchase any of the ingredients locally, contact us at 302-478-3782. To view recipe, click here.
Delaware Bead Society
The "Bead Society" is an affilate of Wellness Plus Delaware specializing in organic pearl jewelry and Feng Shui enhancers. The Bead Society meets monthly on Saturday afternoons. These meetings include jewelry making classes and the option to purchase pre-made jewelry.
Jewelry making classes require pre-registration. To register, call Shirley at 302-999-7687 or Jane at 302-478-3782.
For more information and details, click on the "Delaware Bead" Society tab above.
No Bead Society classes are scheduled for July.