Mission Statement
We empower individuals to take control of their health, with emphasis on prevention, by providing up-to-date information and support – from whole food nutrition to holistic healings.
"Let food be thy medicine and medicine be thy food" ~Hippocrates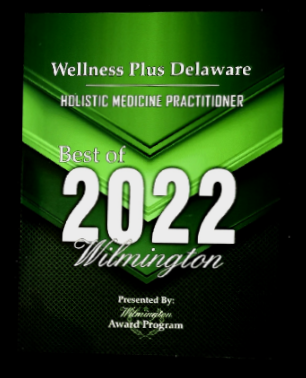 Wellness Plus Delaware
THE best of HOLISTIC MEDICINE PRACTIONERS in Wilmington, Delaware in 2021 & 2022!
Presented by Wilmington Award Program
About Wellness Plus
Our mission is to empower individuals to take control of their health, with emphasis on prevention, by providing up-to-date information and support – from whole food nutrition to holistic healings.
We believe in whole food. As Hippocrates stated, "food should be your medicine and the medicine should be food, and to be a medicine, first, it has to do no harm."
Wellness Plus is 100% supported by member's dues and by their purchases in our "Store of Mother Earth." We have not, do not and will not accept any donations from drug or food manufacturers even though we operate on a not-for-profit basis. Therefore, you can trust the information we provide because we are a totally independent organization.
For individuals and families, we provide weekly classes, seminars, workshops and cooking demonstrations. We also provide various holistic healings (see member's benefit list) at discount prices. We have personal and group training programs in our center, as well as house call services. We also carry unusual and hard to find natural foods and supplies in our store.
For natural healing practitioners, we have referral services, free corporate health fair booths to promote your business, treatment room rent starting at $200/month for one day per week, matching funds for advertising and more. Ask about our "Partner in Health" program.
 September's Activities Schedule
Thursday, September 1, 8, 22 and 29 at 6:30 pm


Exercise with Zoltan: Our fitness director Zoltan Hall returns for special exercise sessions combined with the levity that only he can provide!   Come prepared to exercise, laugh and learn about your muscles and bones.  Bring leg weights or a stretchy band.
Monday, September 12 at 6:30 pm "Exercise and Member's Forum"

Fitness director Zoltan Hall will be leading us through our exercises tonight, strength and stretch!  NEW! Bring leg weights!
Then, come to the Members' Forum at 7:30 PM–Bring your requests, ideas & questions.  We will listen to you & work together to make the Wellness Plus program even better.  Everyone who comes will get 5% off our entire store.
Monday, September 19 at 6:30 pm "Can Medication Really Make You Feel Better

This is part one of two workshops that examine the risks and benefits of medications like antidepressants,

anxiety medications and other psychoactive drugs.  For many years we have been told that those drugs can "correct" chemical imbalances in the brain responsible for depression, psychosis, ADHD etc.  Nevertheless, research shows that there is no credible connection between Serotonin and depression.  We will look at better approaches at the end of the workshop.  Please bring your questions.

Brigitte, a native of Germany, has graduated from Wellness Forum Health with a Health and Nutrition Educator Diploma.  She also has certificates from eCornell where she has completed T. Colin Campbell's Nutrition program as well as from Dr. McDougall's Starch Solution Program.  She has been working with people to resolve health issues since 2013.

Pertinent to today's talk, Brigitte has worked full time as a Market Research Consultant for the pharmaceutical Industry for 26 years and has been involved in many studies looking at the actual efficacy, side effects and data regarding psychoactive drugs, for depression, anxiety, psychoses and ADHD. This expertise has been particularly helpful in understanding the real impact medications can have compared to what the downsides are.  Brigitte also has studied with Dr. Peter Breggin, a psychiatrist who has dedicated his entire professional life (more than 50 years) to debunking the myths surrounding anti-depressants and developing methods of helping his clients without ever starting them on those drug.

Monday, September 26th at 6:30 pm "Cooking with Maria – Soy & Stir Fry"
No meat, just soy! Learn about the benefits of soy from Judy Filipkowski and how to prepare a delicious plant-based meal, no added oil, with Maria. Soy products are varied and versatile and come in many forms. Observe how to make soy great and what vegetables add great taste and nutrition to this Asian classic dish. The more variety of veggies, the better your gut biome! How many varieties of fruits, veggies & grains have you had this week?  Maria Addalli is new to plant-based cooking and she is learning so much by preparing these recipes and looking for the right ingredients.  Judy has been on this path for over 45 years and is certified to teach this whole food plant-based diet from the Wellness Forum since 2001. A cash donation for the chef is appreciated to cover food purchases. Thank you.
Saturday, September 24 at 2:30 pm – "Live Long & Die Short – Blue Lotus Jewelry Set"
Delaware Bead Society
Saturday, September 24 at 2:30 pm "Live Long & Die Short – Blue Lotus Jewelry set"
NEW!! Free bag of beads for everyone who shows up! No purchase or class participation necessary!  Just coming to say "Hi" is enough.
This 100% Sterling Silver bracelet & earring set is made of ceramic blue lotus beads. The big sterling silver focus bead has an "Infinite Life" pattern!  The ancient Egyptians and Asians revered the blue lotus flower and cherished its anti-aging and psychoactive properties. It has been used in ancient societies as a sleep aid and anxiety reliever but has also been described as a mild stimulant with intriguing uses including lucid dreaming, heightened relaxation, and as an aphrodisiac. It's no wonder that interest in this plant has persisted for centuries. 
Come to join us and make this longevity jewelry set. You will gain the skills of bead knotting and an extendable cord finish.  We give all our good wishes to you: Live Long and Die Short!
$12 – class fee if paid in advance; $19– class fee at door; Kits can be purchased at $19.99 each and $27 each at the door.  To register: call: 302-478-3782 or e-mail:  cj.powley@verizon.net.. Directions- www.wellnessplusintl.com/contact/contact.htm
Reservation required for all events.  Call 302-478-3782 or email cj.powley@verizon.net.  All programs begin at 6:30 pm unless otherwise noted.  Registration is required – $20 per person ($15 if paid in advance), members free.  We now accept Visa, Master Card, Discover, and American Express.
Event Registration & Tickets

Use the form below to register for event or class and then make payment.
"Green tea compounds block key enzyme that allows coronavirus to replicate"
A study published in the journal Frontiers in Plant Science shows that chemical compounds in green tea and other plant-based foods can block the activity of a key enzyme in the replication of SARS-CoV-2, the virus responsible for COVID-19.
---
Wondrous Benefits of Green Tea
Unlike most antiviral drugs, green tea appears to work by boosting the immune system to combat diseases such as genital warts (caused by HPV) and the flu (caused by the influenza virus).
---
Start Your Day With Our Breakfast Shake!
The Wellness Plus breakfast recipe is the perfect choice for a nutrient-dense meal in the morning. We encourage you to step outside your comfort zone. Enjoy this breakfast shake which will nourish and heal instead of just getting you to the next meal. If you cannot purchase any of the ingredients locally, contact us at 302-478-3782. To view recipe, click here.
The Wellness Plus Program covers topics such as:
Healthy food choices and shopping
Whole food and weight control
Easy sprouting and wheat grass growing
Keep your heart healthy naturally
Strengthening your immune system
How to select good supplements
Green tea and your health
Anxiety and depression – food & mood
Qigong, Taiji and meditation
Body fat testing
Successful aging
Feng Shui for your home and workplace
Aromatherapy
Living healthy in a chemical world
Osteoporosis and joint health
Calcium & alternatives to dairy
Environment and your health
Avoiding Alzheimer's
Inflammation & degenerative diseases
Natural alternatives to hormone replacement
Keeping your digestive system healthy – naturally
Exercise Classes & Programs
Stretching
Look and feel younger and move easier. Don't let your muscles be an obstacle. Stretching helps refresh lymph and venous circulation. We will learn the benefit of each stretch to help us understand its importance.
Pilates
Pilates is known for core (center of gravity muscles) strength and support training. Strengthen your body and gain better balance. Dr. Demond will explain the benefits of each position.
Yoga and Beyond
Gentle stretches and meditation to relax your mind and body as well as stretch and expand your muscles!
For class schedules, use Calendar Tab under Events & Programs in menu above or click here.
Natural Healing Workshops
The focus is on pure healing essential oils that are safe, have a great aroma, versatile and may help with many symptoms and to ease aches and pains.  What are they?  How do I use them?  To find the answers and learn more about these wonderful natural remedies come and visit us at our workshops presented by Shirley Rineer. Click here for schedule.
Mother Earth Store
Our store features natural whole foods and supplements, as well as handmade jewelry and crafts. We specialize in organic pearl jewelry and Feng Shui enhancers. For more information, use tab in menu above or click here.
Wellness Plus Stories
Read stories of inspiration and success about people who through the use of the Wellness Plus health and wellness program have restored themselves to true health without the use of drugs or surgery.
Their stories include dramatic weight loss, decreases in cholesterol, reversal and/or elimination of degenerative diseases such as type II diabetes, heart problems, cancers and more. Frequently, users of the Wellness Plus program have been able to discontinue the use of all or some medications. Click on the "Testimonials" tab above.
Delaware Bead Society
The "Bead Society" is an affiliate of Wellness Plus Delaware specializing in organic pearl jewelry and Feng Shui enhancers. The Bead Society meets monthly on Saturday afternoons. These meetings include jewelry making classes and the option to purchase pre-made jewelry.
Jewelry making classes require preregistration. To register, call Shirley at 302-999-7687 or Jane at 302-478-3782.
For more information and details, click on the "Delaware Bead" Society tab above.